This blog entry is in English. Yet English is not my native language (Italian is), so have some indulgence with typos or grammatical mistakes. Also, I have been told that I write complex things - whether this is good or bad I don't know: but so, if you are unfamiliar with articulated prose you may see grammatical errors not only where there could be some, but also where just a prose you're not acquainted with is. Native speakers with an A+ grade in english said my english, obviously not perfect, imports no major issues. Lend a deaf ear to the errors, vocally disagree with my thesis whenever you want, but enjoy the style all the while.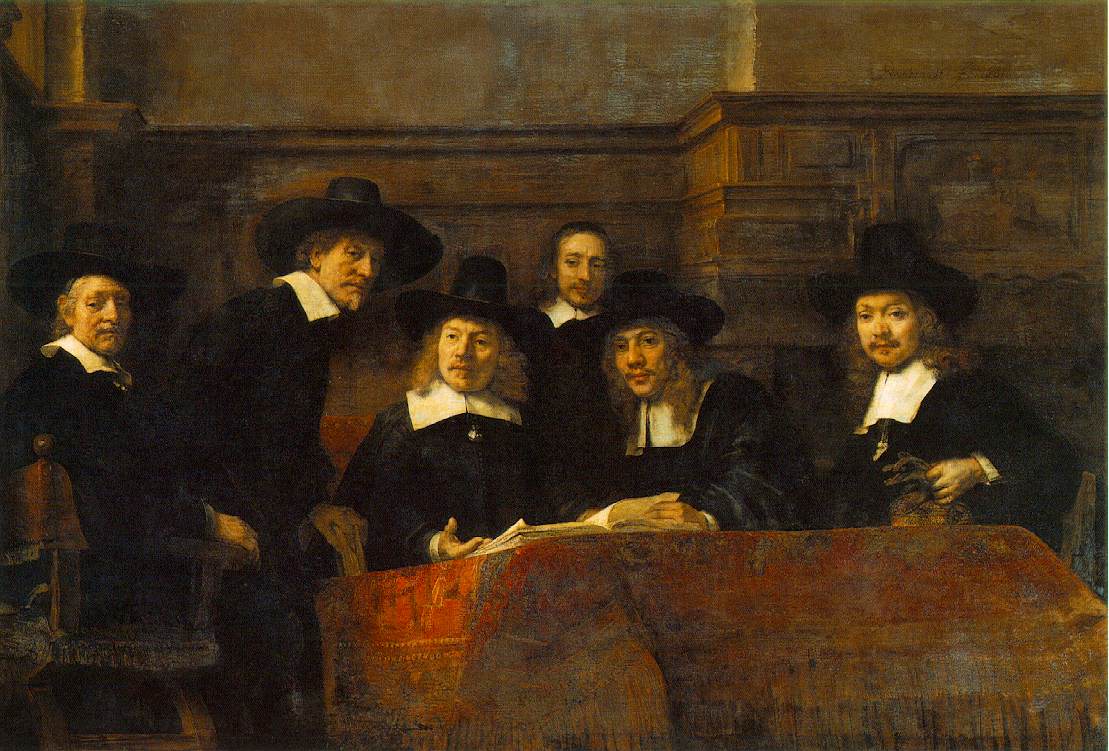 Rembrandt's Cloth Merchants
After all we all live in a jungle, it is said.
Well, I'm under the very same impression at times: for I can smell the presence of nearby game.
This obviously doesn't provide me with any guarantee whatsoever that I'll ever lay my clutches on the pray; none the less it proves to me with an absolute certainty, a certainty that to me is beyond any reasonable doubt like what its nose suggests to the predator is beyond any dispute, that the game is there, is near, that it is close; behold: it certainly roams in the surroundings, and many a times I've just squatted in the high lawn with the same kind of desperate patience a hungry predator might arguably experience, peering the night with a blind gaze, heaving quietly. Like when you go in a new city and you enter your room and you lay yourself on the bed and just stare at the fan on the ceiling, waiting for the hour.
I know there is something there.
Should they ask me what a Lodge is, if I were under a mood like Neruda when he wrote "love is so short and forgetting so long", I might even let the tide overwhelm me and just and finally answer the way I'd have liked to answer since ever: a Lodge is the empty place where either an echo dwells or a ceaseless wind blows.
Think of it, if you're a Brother or you've read our rituals. Endless questions echoing from side to side, as if an ocean would separate Brother from Brother, a perilous ocean that nothing can actually trespass (how would you dare...?), such its sweep that nothing can actually bridge it but a winged thing as wide as the word: what haphazard can successfully cope with its latitude?
Melville might describe this sense of immensity that seems having been invested into our rituals, wanted in by our forefathers. We even have Deacons, to carry the word throughout the wade: as if we where in a place meant to signify something much, much larger than the physical walls surrounding us. It wants ambassadors, specifically trained to toil on the vastitudes of the trail.
An enormous room
*
, where you can't even see and only an echo is fit to reach you from time to time, like drumbeat. Ever considered there is a supernatural parallelism between the echo and the whisper in the ear? They both signify the presence of a power that speaks but can't be seen, and its utterances are so mysterious they have to be recalled every time, like waves.
This symbolism is not moot, is not equivocal. It is astoundingly clear: the Lodge is
metaphorically meant
to be immense, so immense that you should consider it even dangerous: an infinite, insidious country you can't really and safely travel.
But if so, against what this echo bounces? Is it, perhaps, a wind which carries the words? So something generates this wind.
Now, tell me my companion: what such a place is? Ever been in similar a place?
Let's keep this question in mind, will you?
Mine's just another attempt to catch this game.
I've been struggling with his presence since a long, long time ago. It was 9 years ago methinks. Not that long, actually; but you know, there so frequently visits a time when you feel as if each year, seen and rethought with hindsight, belongs and partakes of the immemorial algorithm of the geological ages: indeed, time is marbled.
Nothing happens in our years; but when you look back at them without anger, the triflesome years suddenly unfold and appear glowing with an eerie twilight of overcasting centuries you have never, never cooperated to make shine over there. As if your time, and your biography, were endowed with a
weight
.
So it was 9 years ago I had this impression first: Masonry is a phantasmal, an apparitional entity. I wrote then a somewhat puzzling small essay a few Brothers still wonder about titled "La Prescrizione dello Stupore nei Rituali d' Iniziazione della Libera Muratoria" - that is: A Prescription for Amazement in the Initiatory Rituals of Free Masonry.
Not reproducing it here; but whether you a Brother or you ventured to read our rituals, you can't but concur with me on these points: have you noticed the sense of astonishment how strongly it is stressed? So strongly, that was my thesis, that we can assume it was even... prescribed.
We wonder on who's knocking at the Temple's door - as if we wouldn't have known. We wonder on the name of the petitioner knocking - as if we wouldn't have known, as if it wouldn't have been us to accompany him and place his hand on the door to knock.
A couple of excerpts I tried to translate into english:
"The cry echoes in all the lounges, as if everybody should be presumed unaware, as if the insistence of a reverberating command would be the only fit attitude to deliver the absolute urgency of a critical information, and thus elicit a recollection from a widespread, shared, immemorial slumber encircling all the Brothers. My Brothers! they knock in a profane way at the door! Oh well - as if everybody wasn't waiting, almost hands in hands tapping fingers, and wouldn't have gathered precisely for that."
"A profane at the Temple's door? As if the remark would have not been heard clearly enough yet, as if a confirmation would be quite, absolutely necessary; as if the bewilderment caught the Lodge's members drowned in a gap where even the most obvious, the most traditional of the commitments (adding a member), and the most sensible of the implications (who isn't a member yet, is necessarily a profane and can't knock but as such) got lost and irremediably forgotten."
"But the fact is: this continuous exhibit of a perpetual befuddlement, creeps and then detonates everywhere, refuses to be satiated by showing up just in the epiphany of an initiation, and is so emancipated by whatever precise situation that it eventually succeeds in settling itself deep within the most ordinary positions, characterizing every single aspect of a masonic ritualized life.
What's the first, the second task of a Warden? Oh, so doesn't he know yet?
Why you sit there? Oh, did they forget it, after having heard it over years?
Are all the present persons freemasons? Oh, you see: somebody doubts it…
I recognize them by the signs. Oh, so their faces weren't enough: he even forgot he witnessed the initiation of each of them! As if the avail of an interpretation were required to assess the fact."
So wide this space seems to be, whoever may enter actually: which is clearly a paradox: you can't at the one time enforce a security measure wondering who's knocking, when at the same time you acknowledge whoever might already be in.
Correct, Brother? I feel socratic today.
None the less, there it is: such paradox has been put into our rituals, and who put it there couldn't be unaware of such crystal clear magnitude.
Seems we, the masons, are prescribed to remember we are rooted in an ethereal void (which tantamount not to be rooted at all: we have been eradicated!), our senses either muffled or made impotent by the distances as when you try to guess the sea from the sky in the remotest horizon, and you wonder; and you wonder; and a shiver makes you recoil and you need some human reassurance to go on and don't get dismal at the mounting ripple; as if we're already treading on heavenly meadows: are you still alive, or a mummy that must recollect from the big sleep
*
?
Inhuman spaces surround us and hinder our communications. Either deaf or blind or ghostly: but "tertium non datur", we cannot believe we're bodily humans, my Brother. This is what the Rituals seem suggesting.
I swayed my paw a couple of times in the void, when I felt the pray closer; but there once again it escapes, to jump happily free like a graceful gazelle in the savanna, and beyond my reach once again.
Now it happened again, it was close once again.
There is a painting by Rembrandt titled, if I'm not mistaken with my english, the Cloth Merchants. It portrays a group of six men sitting around a table covered with a finely embroidered red drape (nearly a carpet, actually); these men (who are they?) are gathered for they're busy (or, at least, have been engrossed until one moment ago) perusing a thick book: maybe an account file? One of these men, all dressed in alike a manner, still holds in his fingers a page he was about to turn.
Something, clearly, has interrupted the activity. But what?
You, my friend. For they are all intently gazing at you.
Listen how a french writer, Ronald Barthes, describes this painting in an essay he wrote in 1953:
«Consider Rembrandt's cloth merchants - one of them even stands up to get a better look at you. You become a matter of capital, you are an element of humanity doomed to participate in a numen issuing finally from man and not from God. There is no sadness and no cruelty in their gaze; it is a gaze without adjectives, it is only, it completely is a gaze which neither judges you nor appeals to you; it posits you, it implicates you; makes you exist (... ... ...) What happens when men are by their own means content? What is left to man? The answer is: a look is left. In this perfectly content patrician world, absolute master of matter and evidently rid of God, the gaze produces a strictly human interrogation (... ... ...) Depth is born only at the moment the spectacle itself slowly turns its shadow toward man and begins to look at him.»
Seems a variation on the well known sentence by Nietzsche, "if you stare long enough into an abyss, then also the Abyss will stare into you".
Yes, it is the picture who is looking at you.
The gap of the vertigo seizes you for a moment. Uh! Who's watching Who?
That is, as well: what disposes of the destinies of men?
For these men have a book as if they were the Moirae
*
, have identical clothing, they all are dutch: therefore no misinterpretation declaring they undoubtedly belong to a Craft, also if not in the masonic modern sense of craft.
However, albeit such a suggestion should necessarily stop here for nothing would effectively bolster it beyond what I just stated, notwithstanding there is an invisible hand that pulls us back and coerces us to indulge into second thoughts before giving up and leaving.
In fact, what makes a contemporary Lodge perfect is what the Tradition bequeaths: 7 Master Masons as the minimal required quorum.
These men are darn close to such a number. Darn close. They are
six
.
So close the temptation to believe Rembrandt is intentionally proposing them on the verge of attaining such a threshold is thrilling as a bell unexpectedly ringing in the still, motionless atmosphere.
Seven: A number that anyway has much deeper symbolical a legacy than number six has. Seven.
I mean: should we really believe such a refined, priceless a masterpiece, might have overlooked this factor, and might have bestowed no meaning to the number whereas in the meanwhile it counts even the fringes of the cushions?
You see: they miss just one, correct? Any desultory idea where the seventh might be in this group forming almost a tridimensional circle?
Can genius conflate and interweave so many threads mastering all of them at once? Answer is yes, it can.
Behold and consider the painting standing still before it: see, they clearly
detected your arrival well before you saw them
. You have not been shrewd enough, you see...
The man on the leftmost edge even seems to be moderately giggling at you - and yes, you do need to have the hands of God to paint like that such nuances, and make them speak from the canvas!
Before him, is the man who gets up from his comfortable chair "to get a better look at you"; he shares the same ineffable of Leonardo's Gioconda, but he's more numb: maybe a sense of the Lodge is in the air? But he's not surprised, and he can even be said sporting a dull countenance: oh, your arrival did
not
really surprise him, you see... As if you were
bound
to arrive.
Now try to detect his chair. The chair he's lifting from. Can you
find
it? No. No chair. Perhaps Rembrandt wasn't able to paint chairs?
The man next him taps his hand on the book and looks with reproval at the man who is going to stand, and seems urging: "we have serious matters to look after here, don't waste time once again with
those
...".
Beside him, the man who keeps a leaf of the book in his fingers and was about to turn it before you interrupted him: he clearly, openly looks at you: he's serene, as if he wouldn't even regret a laugh; in between these latter two merchants, there is what can clearly be considered an attendant: on the background, almost merged with the wooden tapestry (real or an apparition?), wearing no hat, he looks at you; and guess what: watch at him carefully, he is about to
wink
at you! Look!
On the rightmost edge the last merchant holds the money; you see, he looks at you as well. You have not perturbed him at all, although his arm seems as if it was about for a moment to fear and withhold the wallet; but he eventually and quickly realized it was just you... others are the dangers. And therefore you deserve his monetary attention. You have got a price to cross this museum chamber as if it were a river: do you have to pay this Charon
*
a coin?
You know what are they going to tell you? Something like, oh please since you here, well get in.
At the same time, you realize they appear bored by you as well. As if they know something about yourself you yourself cannot yourself know.
Now, what should we argue by this strange painting? What did Rembrandt mean to achieve? Certainly, he didn't mean just to play with you. For when a genius plays, he's hurtful.
If all the matter could have been conciliated with the reproduction of a strict figurative similarity with a earthly occurrence (an attempt to freeze the impression that someone entering a room may produce, that is), well then Rembrandt would have been worthless a painter: for in a competition with reality, reality just wins all the games anyway.
On the other hand, it couldn't just and merely be an effort to create a painting that watches who watches at it, for would it have been such, then the painting wouldn't have been more compelling than a well conceived crossworded midsummer's pastime. And painters like Rembrandt just happens not being kids.
What does it mean then? Just a trick?
These men watching at you do not scrutinize you. They already seem to be somewhat acquainted with you. When have you met them first? Do you remember?
They don't admire you, and none the less they do not despise your presence. Your arrival is not really taking them away from their work, although at the same time you clearly did.
It seems that you just drew them from some activity which is remarkably important, but that they can afford to quit temporarily, and this at least just in order "to get a better look at you".
It is as if they do not fear you could really subtract or distract them from their important work, which is spread on the table like a world map on which they arrange the fates of the globe; it is as if on that table is a plan which still concerns you.
So you're neither really unexpected nor really unwelcome; they are all noteworthy relaxed, these guys, and at their ease: they know nobody and nothing can really thwart their job.
You wonder who they are. But they do not; they do not even wonder who you are.
They know that the best is yet to come.
For they
know
they are
dead
.
And that we'll -one day-
join 'em
.
«I have been one acquainted with the night.
I have walked out in rain -- and back in rain.
I have outwalked the furthest city light.

I have looked down the saddest city lane.
I have passed by the watchman on his beat
And dropped my eyes, unwilling to explain.

I have stood still and stopped the sound of feet
When far away an interrupted cry
Came over houses from another street,

But not to call me back or say good-bye;
And further still at an unearthly height,
O luminary clock against the sky

Proclaimed the time was neither wrong nor right.
I have been one acquainted with the night.»
Robert Frost

*
This text is protected by Copyright and cannot be reproduced, either in totality or in part, without the consent of the author. Also derivative works cannot be produced without the consent of the author.
Minor excerpts may be quoted as long as a clearly readable link leading to this file is put in place soon after or soon before the quotation. Only the author has the right to reproduce in its totality this work on other servers.